Premade lash fans are a kind of grafted eyelashes produced in advance by the eyelash manufacturer. It is similar to Silk Lashes easy fan eyelash extensions, but does not require the lash artist to rub the eyelash extensions to achieve the effect of eyelashes blooming premade fans. According to the number of eyelashes on a premade fan, 2 eyelashes are called 2D, 3 eyelashes are called 3D, 4 eyelashes are called 4D, and so on. According to the curvature of eyelashes, it can be divided into C, D, J, B, CC, DD, L, LC, LD and so on.
High Quality Handmade Premade Volume 6D 0.10 13MM Lashes Fans
Place of Origin: Shandong, China
Model Number: 12Rows 6D 0.10C 13mm
Material: China Silk/Korean PBT
Curl: D
Thickness: 0.10mm
Service: ODM OEM
Feature: Soft
Length: 13mm
Package: Customized Package Accepted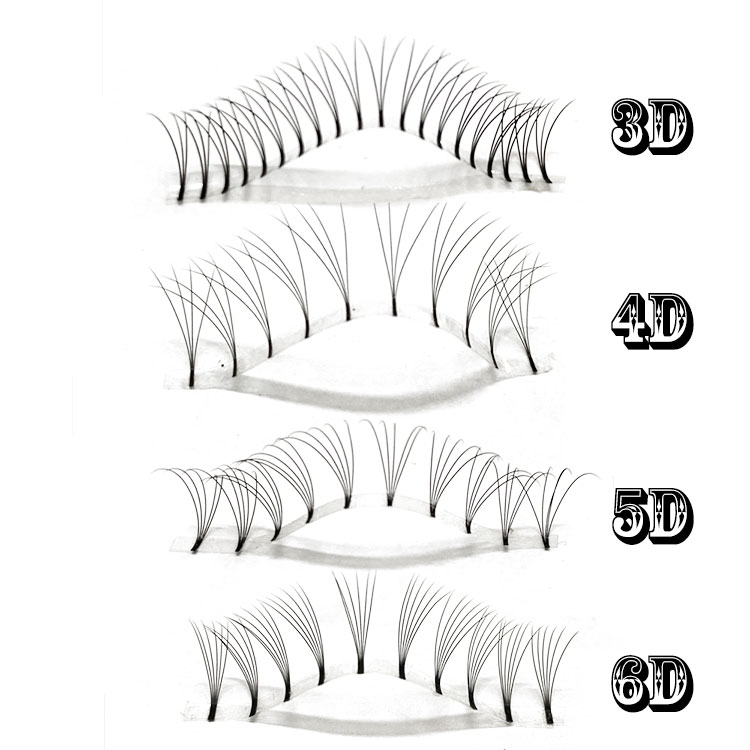 Feature:
The lash is easily removable from the transfer strip.
100% pure hand made, best quality eyelash extensions.
The curl keeps stable and thickness.
The transparent strip layer is easily removable from basis.
OEM Private Label Pre-Made Fans Eyelash Extensions
Material: Premium synthetic silk fiber
MOQ: 10 Box
Thickness: 0.07
Curl: C curl
Roots: 6D
Length: 8mm-15mm Mixed
Description
The premade fans lash extensions make the eyes more beautiful, convenient for grafting, light weight-free, natural matte technology, imitating hair material, close to real eyelashes, and longer grafting. Simple operation greatly improves the grafting speed. After grafting, there is zero touch and no discomfort. The eyelashes are light in weight and easy to graft and last longer.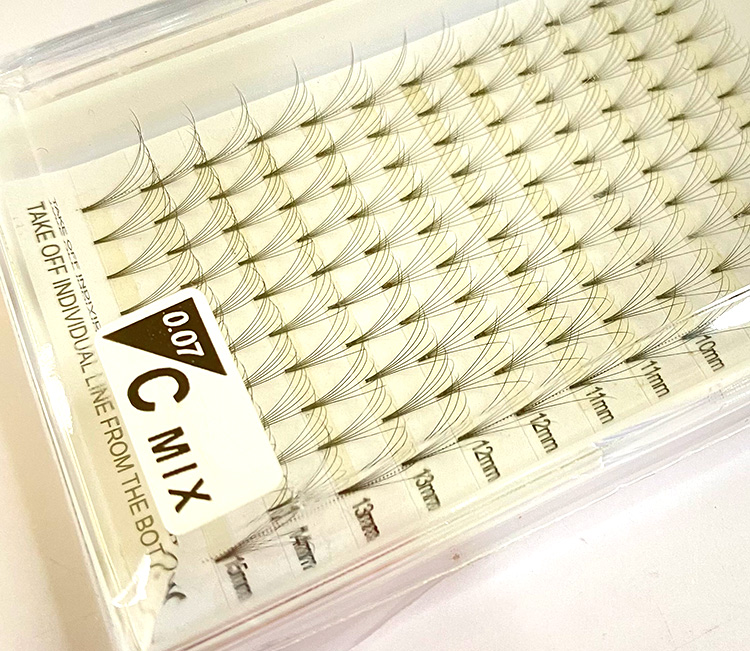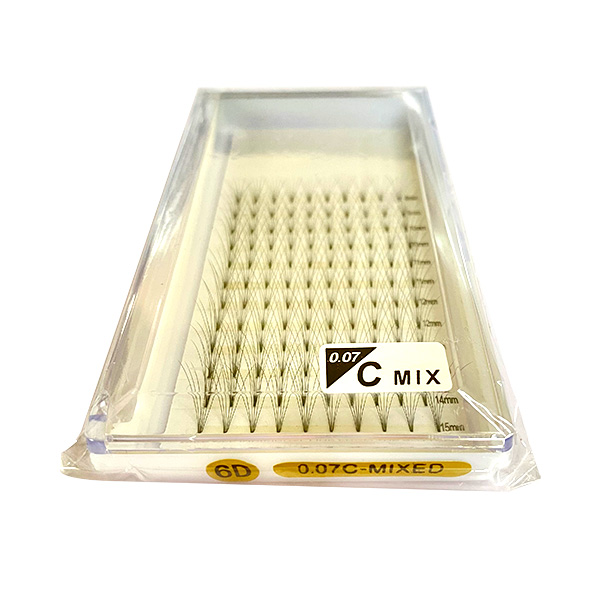 Wholesale 14MM 6D 0.07 Thickness D Curl Premade Fans Eyelash Extensions
Name: Premade Fans Eyelash Extension
Length: 14mm
Curl: D Curl
Thickness: 0.07
Roots: 6D
MOQ: 1 Tray
Rows: 16
Material: Synthetic Silk Fiber
Feature: Soft, Stable
Description
As a professional eyelash factory, we can customize your own brand of eyelashes for you according to your needs. The material, length, curvature, thickness, number of lashes, number of rows, lash tray printing, logo design, root length, type of adhesive, and box style can all be customized.
Affected by the epidemic, premade fans' material stocks are limited. If you want to order pre-made fans eyelash extensions, please contact us for inventory.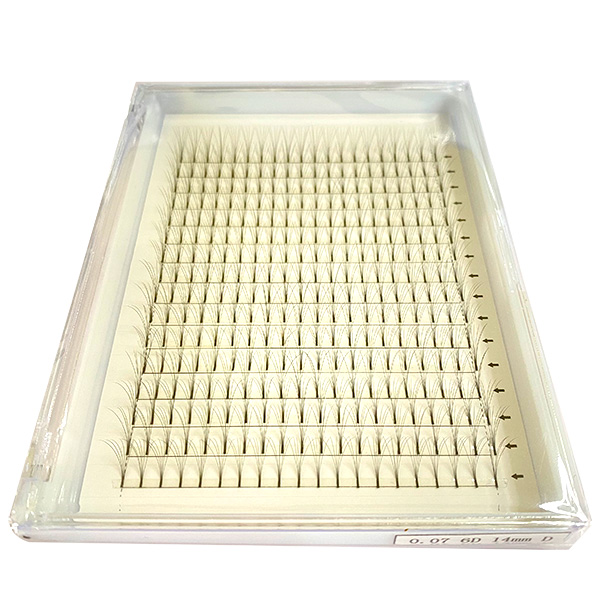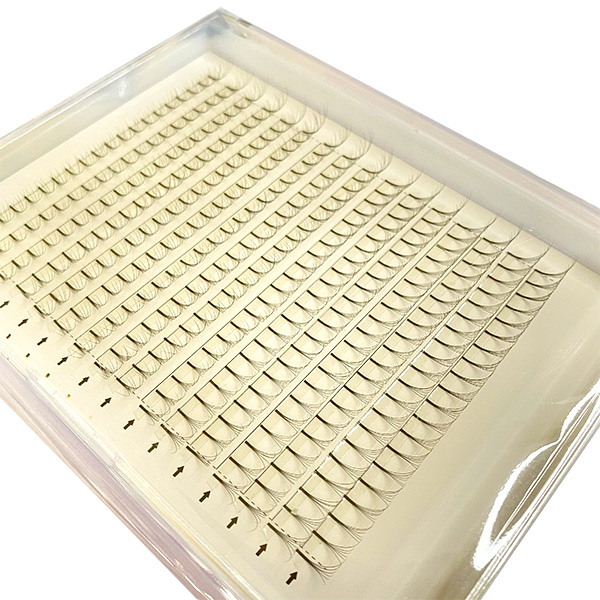 Wholesale 4D 0.07C Mixed Length Premade Volume Fan Eyelash Extension
Origin: Qingdao, China
Model Number: 4D 0.07C Mixed
Material: Korean PBT fiber
Type: Hand Made
False Eyelashes Style: Premade Fans
Curl: D
Thickness: 0.07MM
Length: Mixed
Row: 12 Rows
Package: Customized Package Accepted Silk Lashes
Color: Dark Black
Steam: Long Steam
Description
The premade lash fans are attached in the bottom of tape strip. It's easily removable from the tape strip, and the paper cards are also easily picked up from the eyelash box. Lash artist can directly pick up and apply. No need to make fans and no residue glue.
Our premade fans are made of Korean PBT silk fiber. It's soft and lightweight like our own natural lashes. It's suitable for the customers with sparse eyelashes.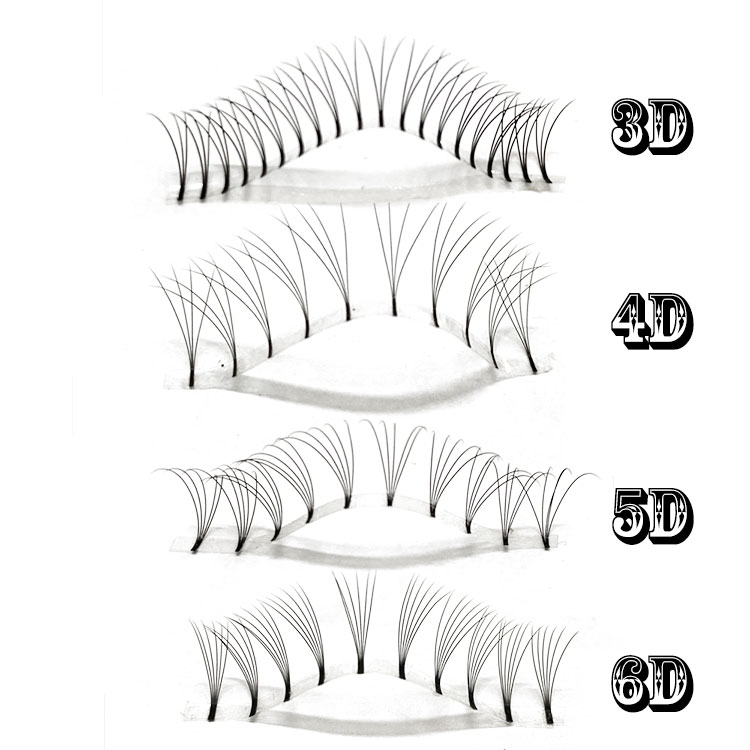 Wholesale 5D 0.10D Mixed Premade Fans Lash Extensions
Material: China Synthetic Silk/Korean PBT
Type: Hand Made
Curl: D
Thickness: 0.10mm
Length: Mixed
Feature: Soft, lightweight, waterproof, flexible
Service: OEM/Wholesale/Samples
Steam: Short Steam
Description
KallyHair premade fans eyelash extension are made by experienced workers, they are serious about the process of making. Every process must go through strict inspection. So the quality is guaranteed. We can produce more than 1500 boxes of premade fans every day. So there is no need to worry about whether the supply of products is stable.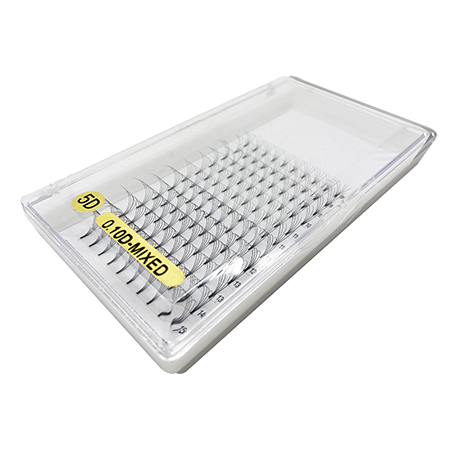 Frequently Asked Questions:
SHOP 3D Mink Lashes>>>>
SHOP Wholesale Mink Lashes>>>>
SHOP 5D Mink Lashes>>>>
SHOP Faux Mink Lashes>>>>
SHOP Mink Lashes>>>>
SHOP 20 Mink Lashes>>>>
SHOP 25 Mink Lashes>>>>
SHOP Eyelash Glue>>>>
SHOP Eyelash Tweezers>>>>
SHOP Custom Eyelash Packaging>>>>